"Diamond And Silk" Purport To Be Donald Trump's Biggest Fans, Turns Out They Were Paid By The Trump Campaign
|
On Monday afternoon, the US Commerce Department tweeted a picture of YouTube stars Lynnette Hardaway and Rochelle Richardson, also known as "Diamond" and "Silk," visiting their offices. But soon after, the tweet was deleted.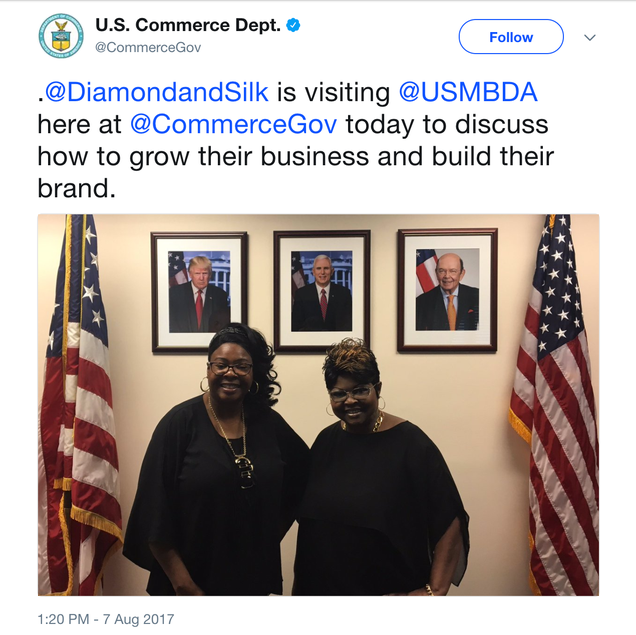 The duo was invited to the Commerce Department's headquarters to, supposedly, discuss with the Minority Business Development Agency (MBDA) on how to grow their business. Right now, Hardaway and Richardson run a pro-Trump political blog, and sell only two products: Trump-themed pins: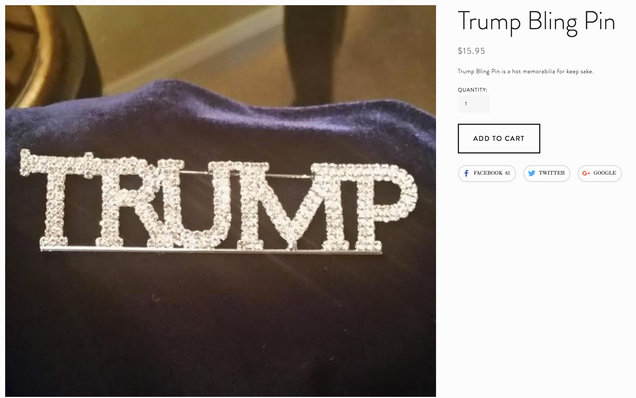 A spokesperson for the Commerce Department said that they deleted the tweet "out of an abundance of caution," claiming that they were not sure if they had permission to post the photo. "Diamond and Silk were here to talk about minority business development," the spokesperson said. "They reached out to the Acting National Director of MBDA, [whom] they had met previously, to discuss how best to help the minority business community." But the spokesperson didn't say how the department was helping the two women "build their brand."
Chris Garcia, a former Trump campaign advisor, arranged the meeting. President Trump appointed Garcia as acting head of the MBDA. To make matters even more conspicuous, Hardaway and Richardson were paid by the Trump campaign as consultants—a dismal $1,274.94 for their "field consulting."
The two were on the campaign trail often. Daniel Scavino, a Trump campaign advisor and now the director of White House social media/assistant to the president, invited the internet personalities to attend a Republican debate in November 2015. Two months after that, Trump introduced the duo at an event in Iowa, saying "They've become very famous and very rich." Trump might have been referring to the fact that Ace Specialties, who the Trump campaign paid over $2 million to for campaign merchandise, also supplied the pro-Trump gear sold on the Diamond and Silk website.
However, a campaign spokesperson told ABC News in April 2016 that Hardaway and Richardson "have never been paid by the campaign, which you can verify in our FEC reports. There is no connection with Ace. We very much appreciate the unwavering support and enthusiasm, from Diamond and Silk."
Now, after proof exists that they were paid by the campaign, Hardaway and Richardson are meeting with a Trump-appointed Commerce director to talk about growing their Trump-themed business, even though Trump likes to sue people for using his name.
Follow @Daily_Express24
please like our page for more update