Trump Attacks Republicans On Twitter; Makes Insane Demands To Get What He Wants
|
On Wednesday morning, Donald Trump took to Twitter to attack Senate Republicans to completely get rid of the legislative filibusters.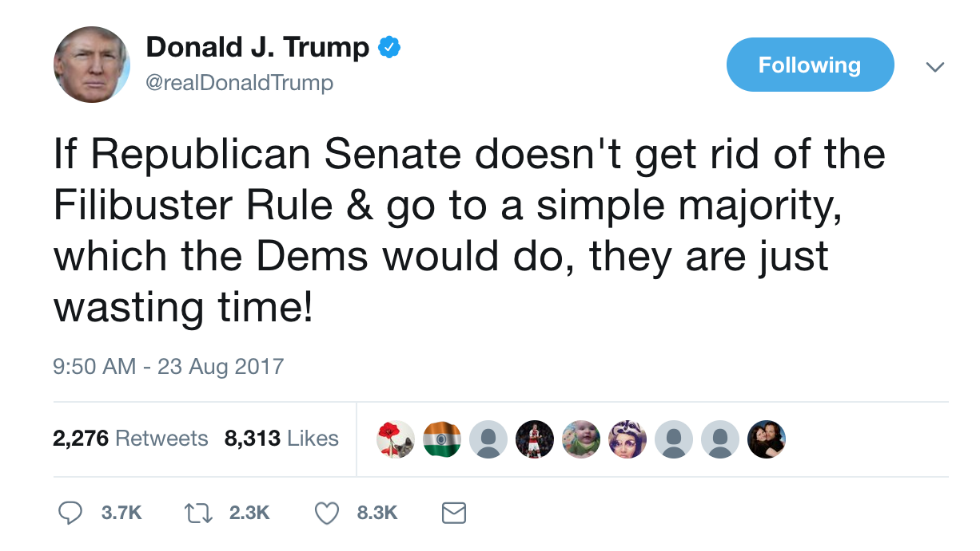 Earlier this month, McConnell reiterated that Republicans would not gut the 60-vote legislative filibuster despite public pressure from Trump.
"There are not the votes in the Senate, as I've said repeatedly to the president and to all of you, to change the rules of the Senate," McConnell told reporters during a weekly leadership press conference.
Much of the criticism of the filibuster from Trump came during the healthcare debate. Republicans didn't need 60 votes in that debate because ObamaCare repeal was moving under special budgetary rules that negated the filibuster. Yet the GOP couldn't win 50 votes on its repeal effort, according to The Hill.
The truth of the matter is Trump is wasting his own time trying to convince the senate to change longstanding rules just because his agenda keeps failing. It's just another example as to why he can't take responsibility or follow through on any action. Sad.
Follow @Daily_Express24
please like our page for more update